by Raj Ranade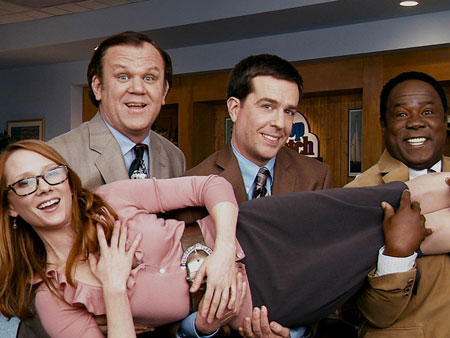 Three cheers for John C. Reilly and the wonderfully, willfully weird path his career has taken! The path that Hollywood generally lays out for actors is a slow but inexorable march towards maturity, usually with a prestigious golden statuette in mind – Bill Murray, Jim Carrey, and Robin Williams are just a few of the one-time comedic actors who now spend most of their time striving for the rarefied dignity of drama.
Reilly, however, seems to have little interest in maintaining the acclaimed thespian reputation he established in films like Magnolia, The Hours, and Gangs of New York. Instead, he's plunged scraggly-haired-head first into the territory of awkward pauses and fart jokes, establishing himself as a major comic force in Sundance indies like Cyrus and (far more rewardingly) unhinged comic anarchy like his collaborations with Will Ferrell (Talladega Nights, Step Brothers) and his work on TV's Tim and Eric Awesome Show Great Job (the punctuation of that title may give unfamiliar viewers an inkling about the show's tone). And more power to him, I say – Hollywood isn't exactly drowning in dramatic actors of Reilly's caliber, but there's even fewer comedic voices with the kind of self-effacing absurdist genius that Reilly embodies.

Reilly's the best thing about Cedar Rapids, a slight yet satisfying comedy from veteran indie director Miguel Arteta (The Good Girl, Youth in Revolt). Rapids is part of an increasingly popular subgenre of the coming-of-age story that focuses on man-children who physicaly came of age long ago (see, for example, every movie Judd Apatow has had any involvement in). Small-town insurance salesman Tim Lippe (Ed Helms) is naivete incarnate. He's daunted by the prospect of heading to the titular "big city" for an insurance convention, he's deeply suspicious of the clerk asking for his credit card at the hotel when he checks in, and he turns white as a sheet upon learning that one of his roommates (Isaiah Whitlock, Jr) is black. More troubling are a hard-partying loudmouth (Reilly) and a flirty strawberry blonde (Anne Heche) who rope Tim into a raunch-humor night of excess.
Helms is a talented actor who can do a lot with a complex role, like on The Office, where his Andy Bernard is a mix of fundamental sweetness, rank desperation, and unresolved anger-management issues. The chief issue with Cedar Rapids is that Arteta doesn't take advantage of his lead – Helms' kind-hearted rube is too much of a Beverly Hillbillies-grade caricature to truly register emotionally. But Cedar Rapids is worth watching for the fine performances that Arteta elicits out of his supporting players. Reilly is in prime idiotic-bluster mode, speaking in vulgar-horndog poetry and donning a trash-can lid to dive into a pool – the slurred series of beeps he subsequently emits in his drunken R2-D2 impression are perhaps the peak of the film. And the film has a surprisingly deep roster of talent – Arrested Development's Alia Shawkat as a prostitute Tim befriends, That 70s Show dad Kurtwood Smith as an insurance conference president who is as devious as he is devoutly Christian, Rob Corddry as an aggressive meth-head.
There's never too long of a gap in Cedar Rapids between actorly sparks of brilliance, whether it's Whitlock, Jr. riffing on his role as a corrupt senator in HBO's The Wire or a half-naked Reilly acting out his life philosophy of "dancing with the tiger." And Arteta does have interesting things to say about society, although he spends too much time on the slapstick to ever get at the kind of sharp satire found in movies by directors like Alexander Payne (this film's executive producer). It's interesting to see a movie talk about religious hypocrisy and sexual liberation without either casting judgment on its characters or taking them to extremes of transformation. Cedar Rapids is too mild to be anything other than thoroughly pleasant – but that may be just the package to get the aforementioned themes across to the straitlaced people who might need them.
###
Sponsored link: Click here to purchase movie tickets in Lexington.